The Centre for Infectious Disease Research in Zambia (CIDRZ), has donated various items worth K20,000 towards the fight against COVID-19 to Matero Level 1 Hospital in Lusaka. CIDRZ made the donation through its Enteric Diseases and Vaccines Research Unit (EDVRU) on Friday 17th April 2020.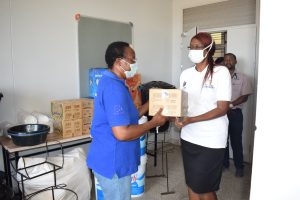 The donation is in response to a request for support towards community sensitization activities on COVID-19 in Matero sub district, made through the Matero Level 1 Hospital Public Health Office. Some of the items donated to the hospital, include mega phones, liquid hand washing soap, hand washing units, hand sanitizers, chlorine and plastic boots.
Making the donation on behalf of   the CIDRZ Head of EDVRU and Chief Scientific Officer Dr Roma Chilengi, Matero Clinical Research Site Coordinator, Ms Bupe Sichalwe thanked the Matero Level 1 Hospital management and staff for the support they continue to give CIDRZ as it carries out the various research studies at the site. 
"We are grateful for your support and we felt compelled to make this donation as a way of giving back to the hospital and Matero community. We hope that the donation will help to fight the COVID-19 pandemic," Ms Sichalwe said.
Matero Level 1 Hospital Public Health Specialist, Dr Matimba Chiko commended CIDRZ for the donation and added that the items donated would go a long way in the fight against the COVID-19 pandemic.