As COVID-19 pandemic has affected many countries globally including Zambia, the Government of the Republic Of Zambia through the Ministry Of Health has given a directive to all Health Facilities to decentralize drug delivery system. This directive has been supported by the April 2020 US President's Emergence Plan for AIDS Relief Technical Guidance during COVID-19.
In response to this directive and recommendation, the Centre for Infectious Diseases Research in Zambia (CIDRZ) through the Pharmaceutical Services Department, is supporting Chongwe District by providing last mile delivery from the District Central Hub to the 29 supported service delivery points.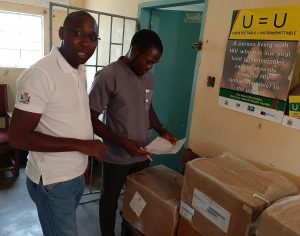 CIDRZ Senior Pharmacist Muhau Mubiana said that the decentralization program was aimed at helping facilities to provide 6MMD to Anti-Retroviral Treatment (ART) recipients of care. He added that the programme would help promote decongestion in the facilities and social distancing amongst the recipients of care that frequent the facilities.
''In my humble opinion COVID-19 is the fastest spreading infectious disease compared to Cholera in our local setting. Provision of 6MMD to the ART recipients of care is an important activity which will not only protect them but also protect the health care providers as recipients of care won't be required to make frequent visits to the clinic, having said this, I can breathe a sign of relief knowing that our efforts as CIDRZ will result in the prevention of spread of COVID-19 in Zambia'' Mubiana said.
And CIDRZ Intern Pharmacist Namonje Mwandama said that there would be no ART recipient in the district during the COVID 19 pandemic, who would be left without being provided with drugs.
''Having been on the ground, I have seen first hand the impact that 6MMD will have on the ART recipients of care; in that they will have enough medication to sustain them for the un foreseen future that the global COVID-19 pandemic might have on Zambia as a country, and no  ART recipient of care will be left wanting of drugs." Mwandama said.